Proof of "World Class"... Lee Jung Woo wins the 12th round of the AMX eSports Championship - Held on August 19th, 2021
"A major accident occurred during the main race... The online audience praised JongKyum Kim and JungWoo Lee's 24-minute battle."
Jungwoo Lee (Team BTC) won the main race in the 12th round (Real Driver Round) of the AMX e-Sports Championship presented by Kolon Motors co-hosted by Automanix (CEO John Lee) and the afreeca Colosseum (CEO Chae Jung-won). In particular, JongKyum Kim (Atlas BX ESports Team), who finished second, repeatedly battled without conflict for 24 minutes, clearly proving his "world class" professional racer skills.
The 12th round, in which 20 real drivers participated, was held at the Interagos Circuit using the BMW M4 GT3. It is a historical site of Brazilian motorsports, which is loved as a popular sport comparable to soccer. The circuit consists of a variety of corners, including a hairpin (a sharply bent corner) a chicane (an S-shaped corner) and an high speed main oval circuit, which means a high-speed main circuit.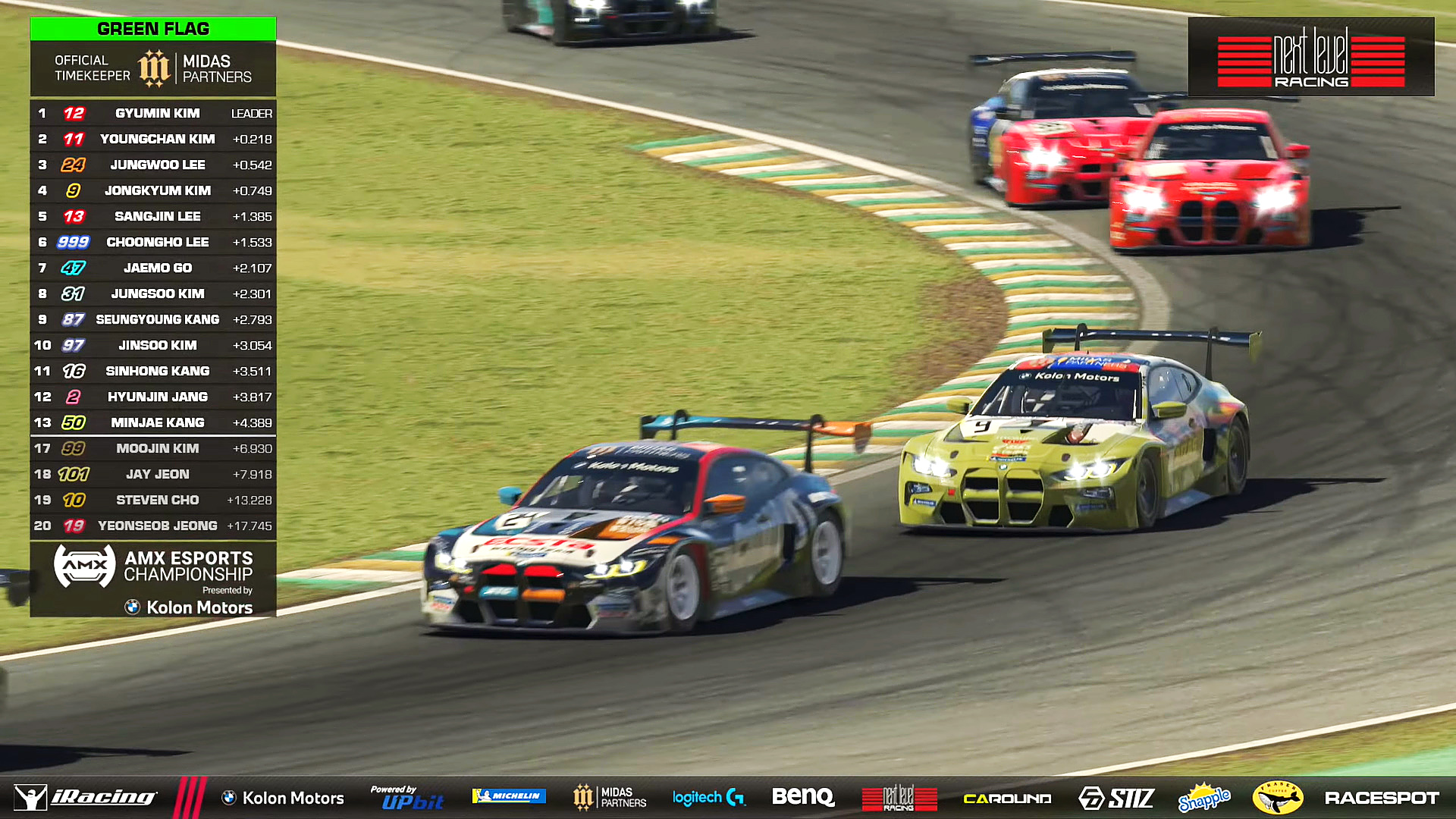 The sprint race, which began in the order of Gyumin Kim (DCT E Racing), YoungChan Kim (DCT Racing), and JongKyum Kim, displayed the fiercest competition for third place. At race start, JungWoo Lee succeeded in overtaking JongKyum Kim, but gave up his position to JongKyum in the next lap. As the competition between JongKyum and JungWoo heated up even further, SangJin Lee (DCT ESports), ChungHo Lee (Ulsan DR Motorsports), and JungSoo Kim joined the competition, and the race was great that five players were in 1.5 seconds at the end of the game. The game ended in the order of GyuMin Kim, YoungChan Kim, and JongKyum Kim.
The main race, which began in the order of Jang Hyun-jin (DR Mighty), Lee Jung-woo and Kim Jung-soo (Team PS31), had outstanding performances in the midst of a fierce battle between the two professional racers. JungSoo Kim intervened in front of ChungHo Lee and spun, leading to a big accident, and GyuMin Kim and YoungChan Kim were pushed to the bottom. Meanwhile, the leader HyunJin Jang was overtaken by JungWoo Lee and JongKyum Kim in the very next lap. Afterwards, JungWoo Lee and JongKyum Kim had a bloody battle for as long as 24 minutes without unnecessary contact and collision. Showing another amazing performance, YoungChan Kim, who was once pushed to 19th place, rose to 3rd place, ending the race with P1 JungWoo Lee, P2 JongKyum Kim, and P3 YoungChan Kim.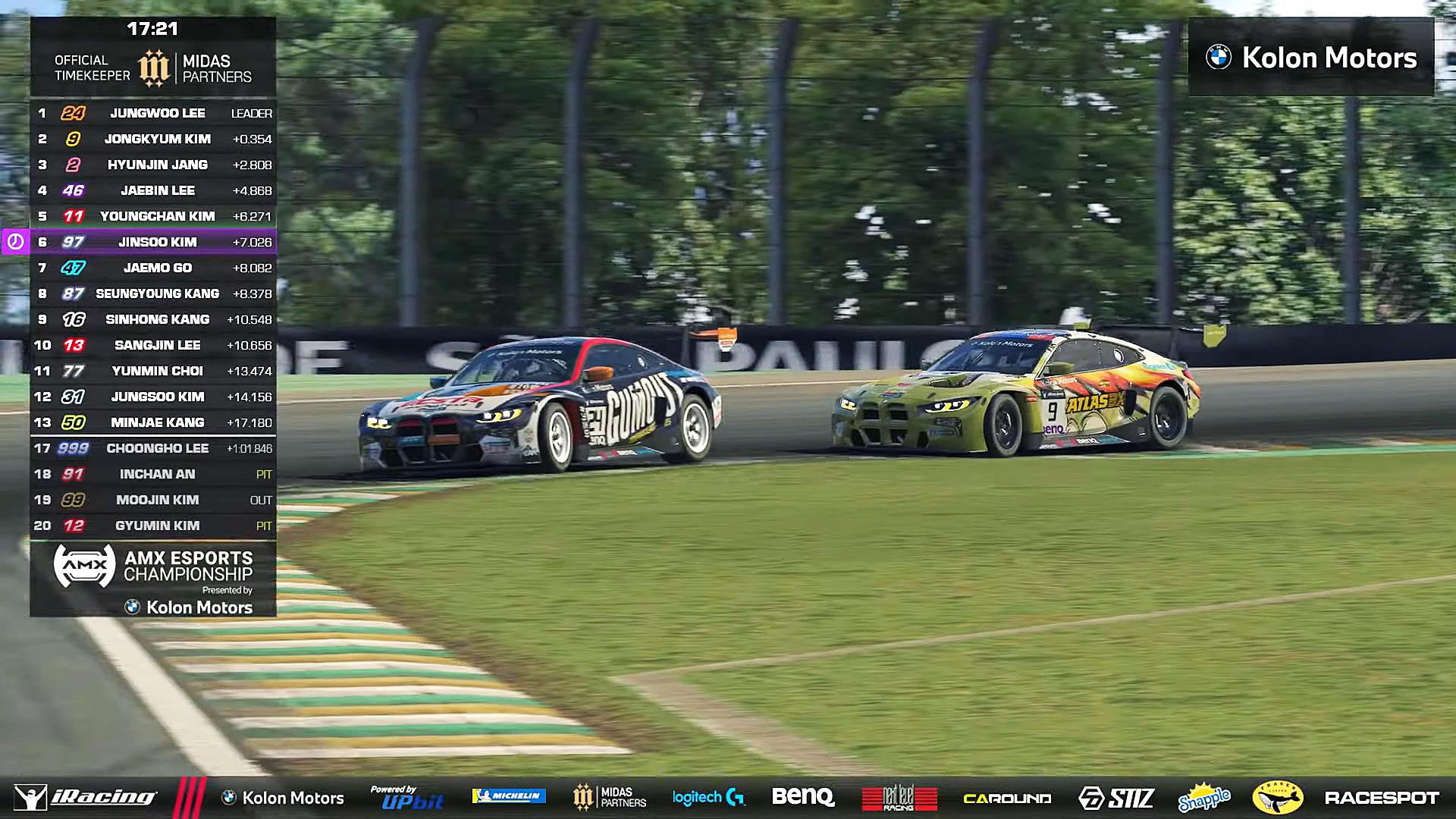 Round 12 Highlights:
- Championship: https://www.youtube.com/watch?v=ttHWXppoqrI
- Junior Cup: https://www.youtube.com/watch?v=b8-b3zt_Fjc
Watch Round 11 Again:
- Korean (AMX ESPORTS)
- English (RaceSpotTV)