Dramatic position changes in Round 8 of the AMX eSports Championship - Held on July 13, 2021
"19 Influencer participants fully adapting to an oval circuit to run an excellent race comparable to that of NASCAR."
The 8th round of the AMX eSports Championship presented by Kolon Motors, co-hosted by Automanix (CEO John Lee) and afree Colosseum (CEO Chae Jung-won), impressed viewers with fierce competition, brutal accident scenes comparable to NASCAR, and countless position changes.
The eighth round was held in the same way as the second round. 19 influencers participated, and held at Charlotte Motor Speedway Oval using the BMW M4 GT3. Due to the nature of the track, which has a higher driving speed than the narrow width of the road, a great number of scenes that caught the viewer's attention.
The sprint race portion began in the order of Yunki Ride (Quadro E-Rain Racing Team), Luxx (Midas Racing), and Dayeon Lee (PS31). No major accidents occurred immediately after departure, and ranking changes were steadily made through drafting (the Oval Track Driving Method, which runs using the advantages of aerodynamics).
Ojun Ahn (Solite Indigo Racing), who was racing in second behind the leader Yunki Ride, maintained a 0.1 second interval for as long as 12 minutes and continued to drive as if he had measured the distance apart. However, three minutes before the end of the sprint race, Yunki Ride was pushed out of the lead, complicated by the back marker. The sprint race was completed in the order of P1 Ojun Ahn, P2 Lovely Chacha, and P3 Yunki Ride.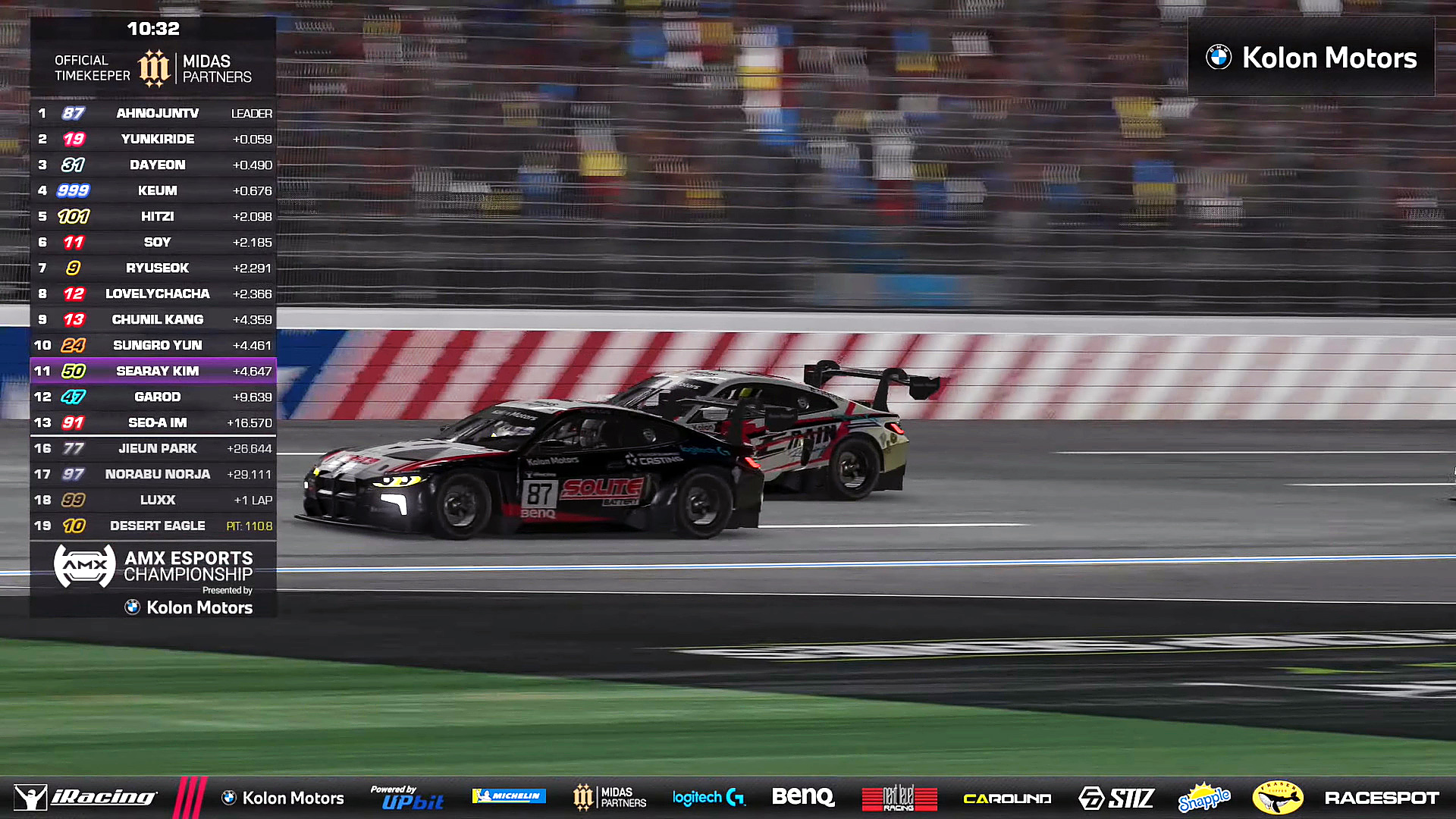 RyuSeok (AtlasBX E-Sports Team), Dayeon Lee (Team PS31) and Hitzi (NJC) started top position in the main race, where the first to eighth place finishes of the sprint race are assigned in reverse grid order. The Safety Car came into play throughout the main race. As soon as the race started, a major accident occurred, thus the yellow flag were issued resulting in the safety car getting deployed, followed by two more times of safety car usage. It was finished in the order of P1 Geum-ah (Ulsan DR Motorsports), P2 Yunki Ride, and P3 Norabu Norja (Solite Indigo Racing).
John Lee, CEO of Automanix, said, "In the eighth round, where 19 influencers participated, the players who fully adapted to the oval track stood out. Meanwhile, the audience's response to the fireworks of the main race, was great. As everyone in Korea is confused and struggling with the implementation of the fourth stage of social distancing, I hope our series will comfort and entertain those who watched the competition."
The AMX eSports Championship presented by Kolon Motors is sponsored by industry-leading automobile, IT, professional consulting, clothing, and beverage companies such as title sponsor Kolon Motors, Upbit, Michelin Korea, Logitech G, BenQ, Next Level Racing, Carround, Steeds, Snapple, and Fraser Coffee.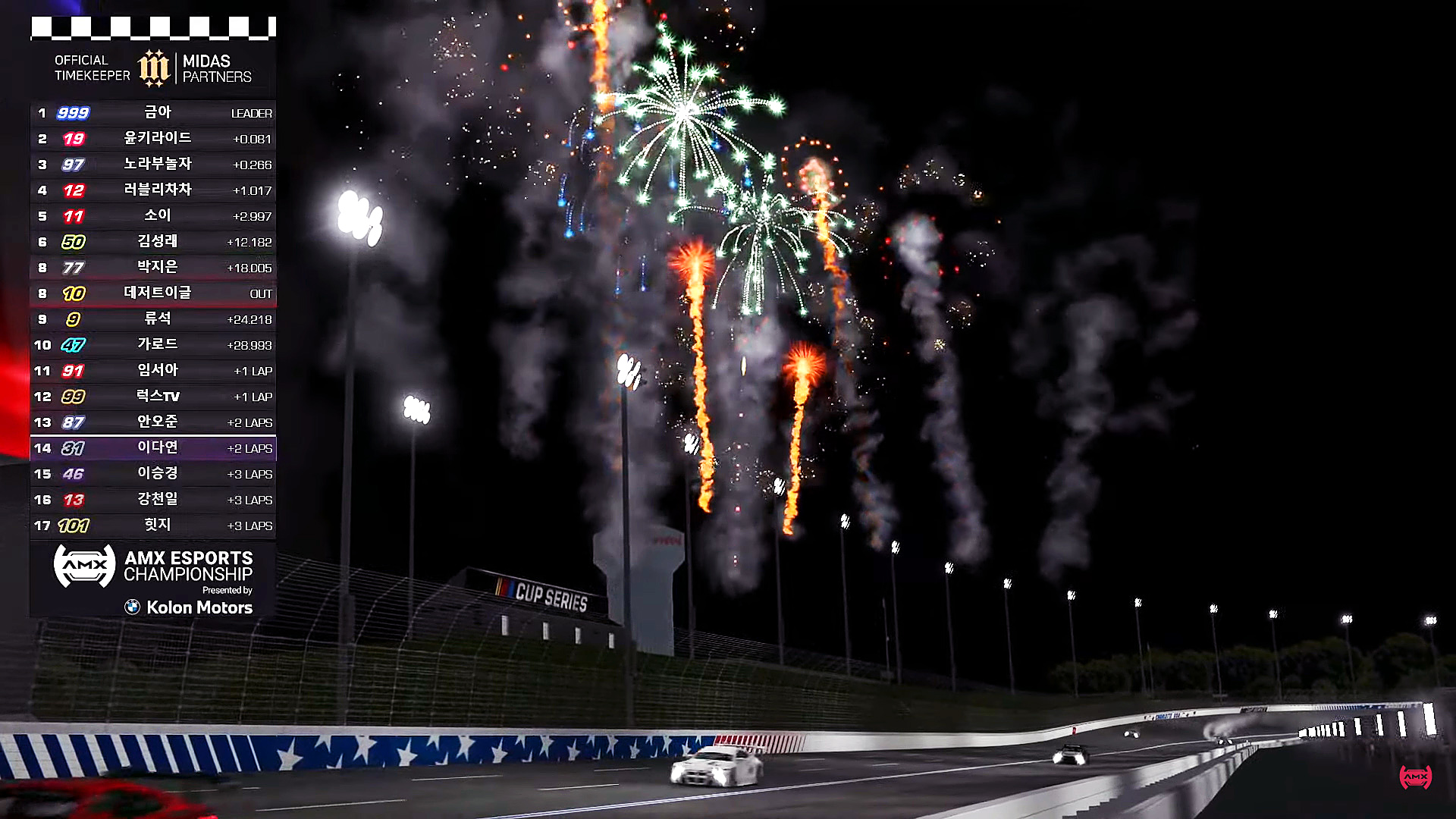 Round 8 Highlights:

- Championship: https://www.youtube.com/watch?v=HLpxnzRY4Y0
- Junior Cup: https://www.youtube.com/watch?v=IuSm0ZfGNU8
Watch Round 8 Again:

- Korean (AMX ESPORTS)

- English (RaceSpotTV)