Sim Racer turned Real Racer, Gyumin Kim AKA VoltKim takes Round 9 of the AMX eSports Championship - Held on July 20th, 2021

"Ex-Sim Racers vs Professional Drivers; A fierce competition. GyuMin Kim wins both the sprint and main race."
"JongKyum Kim of ATLASBX E-SPORTS TEAM participated in the race with a new livery created in collaboration with PEACHES."
"17 year-old racer YeongKwang Song finished 14th."
The ninth round of the AMX e-Sports Championship presented by Kolon Motors, co-hosted by Automanix (CEO John Lee) and the Afreeca Colosseum (CEO Chae Jung-won), showed real motorsports-like race management, strengthening its position as the "biggest sim racing competition in Korea."
20 real drivers competed at the Circuit de Barcelona-Catalunya Grand Prix using the BMW M4 GT3 in a similar fashion as the third round. Contrary to the impression that "overtaking in this circuit will be limited," plenty of overtakes happened, as a result of the skills of high-quality drivers that had difficulty determining superiority and inferiority of each others' sim-racing skills, giving online audiences a thrilling race that reached beyond real motorsports.
GyuMin Kim and YoungChan Kim immediately attacked the sprint race, which began in the order of GyuMin Kim (DCT racing), YoungChan Kim (DCT racing), and JongKyum Kim (Atlas BX E-sports team). On the other hand, JongKyum Kim was caught in incidents several times over and his pace continued to drop, while getting a situation where five drivers were closely following within seconds. JongKyum Kim was eventually pushed out of the corner in two laps, falling to eighth place.
The main race began in the order of Sangjin Lee (DCT E-sports), JongKyum Kim, and DongGyuKim (E-Euro). JongKyum Kim , who took the lead, was pushed back from the lead by Sangjin in the first corner, and GyuMin, who started eighth, took advantage of the opportunity to take the lead.
The race ended in the order of GyuMin Kim, JinSoo Kim, and JungWoo Lee. Meanwhile, YoungChan Kim, who was competing for second place with JinSoo Kim, was pushed to eighth place by spinning out, but finished fourth in the final with excellent driving.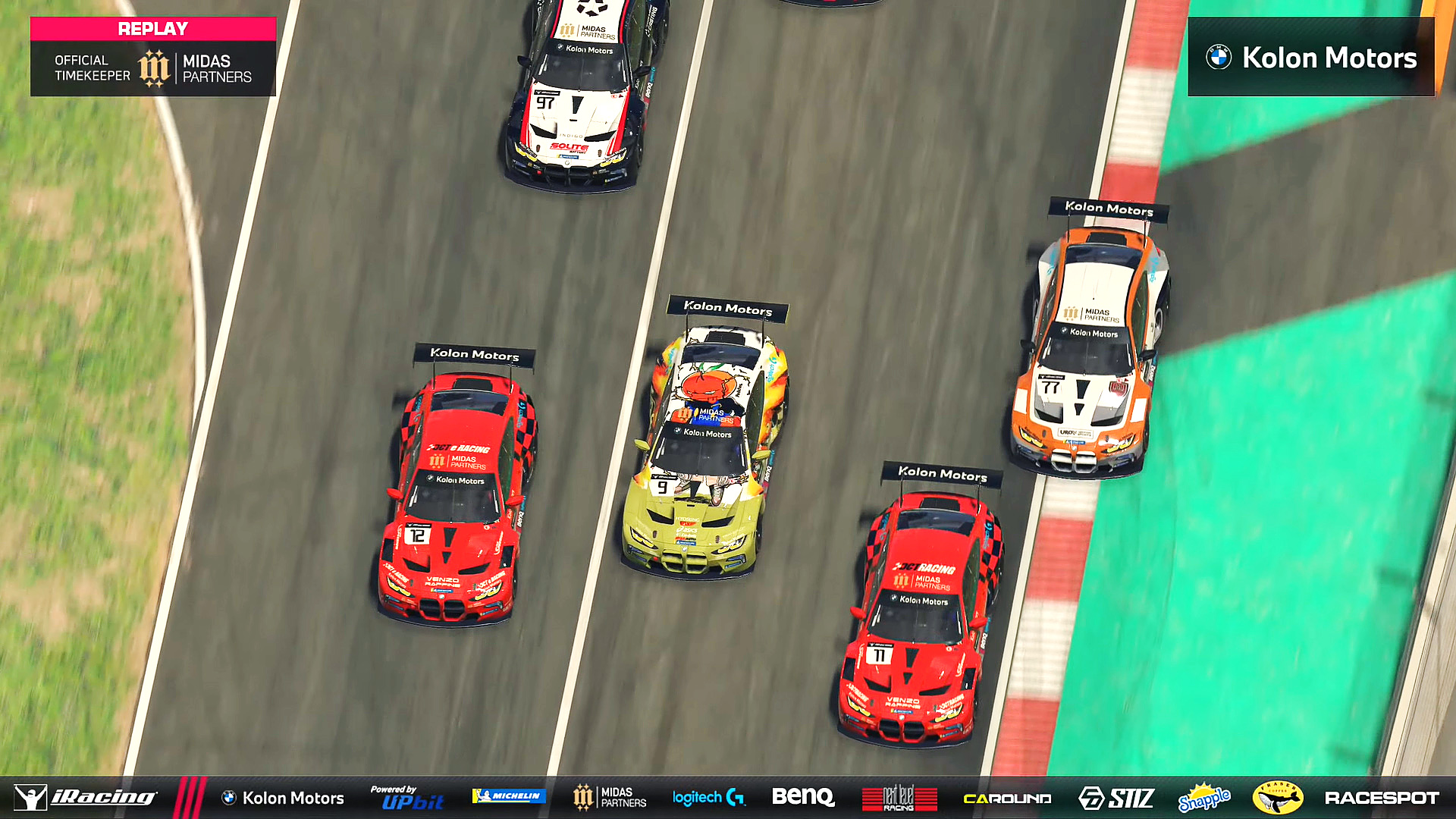 This ninth round was full of new things to see. The Atlas BX E-Sports team raced with a new livery involving PEACHES' Batto character, aiming to grow motorsports culture through AtlaxBX's collaboration with Peaches. Meanwhile, 17-year-old high school student racer YeongKwang Song (One Racing), who joined this round, finished 14th in the sprint race and quickly adapted to the series.
John Lee, CEO of Automanix, said, "The ninth round in Barcelona was a high-quality race based on the outstanding skills of both sim racers and real drivers. The race was thrilling and in particular, YoungChan Kim, who was pushed to eighth place, finished fourth where it had me thinking, 'where there's a will, there's a way."

Round 9 Highlights:

-Championship: https://www.youtube.com/watch?v=zd2sHzMpITY
-Junior Cup: https://www.youtube.com/watch?v=HObuDETRyw8


Watch Round 9 Again:
-Korean (AMX ESPORTS):
-English (RaceSpotTV):