Yunho Park shines again... Round 10 - Held on August 5th, 2021

"20 sim racers participate... but Yunho Park dominates, while being active in both the Junior Cup and Championship, won both the Sprint and Main Race."
The 10th round of the AMX e-Sports Championship presented by Kolon Motors, co-hosted by Automanix (John Lee CEO) and afreeca Colosseum (CEO Chae Jung-won), gave online audiences an intense and thrilling show that can only be seen in the world's leading motorsports.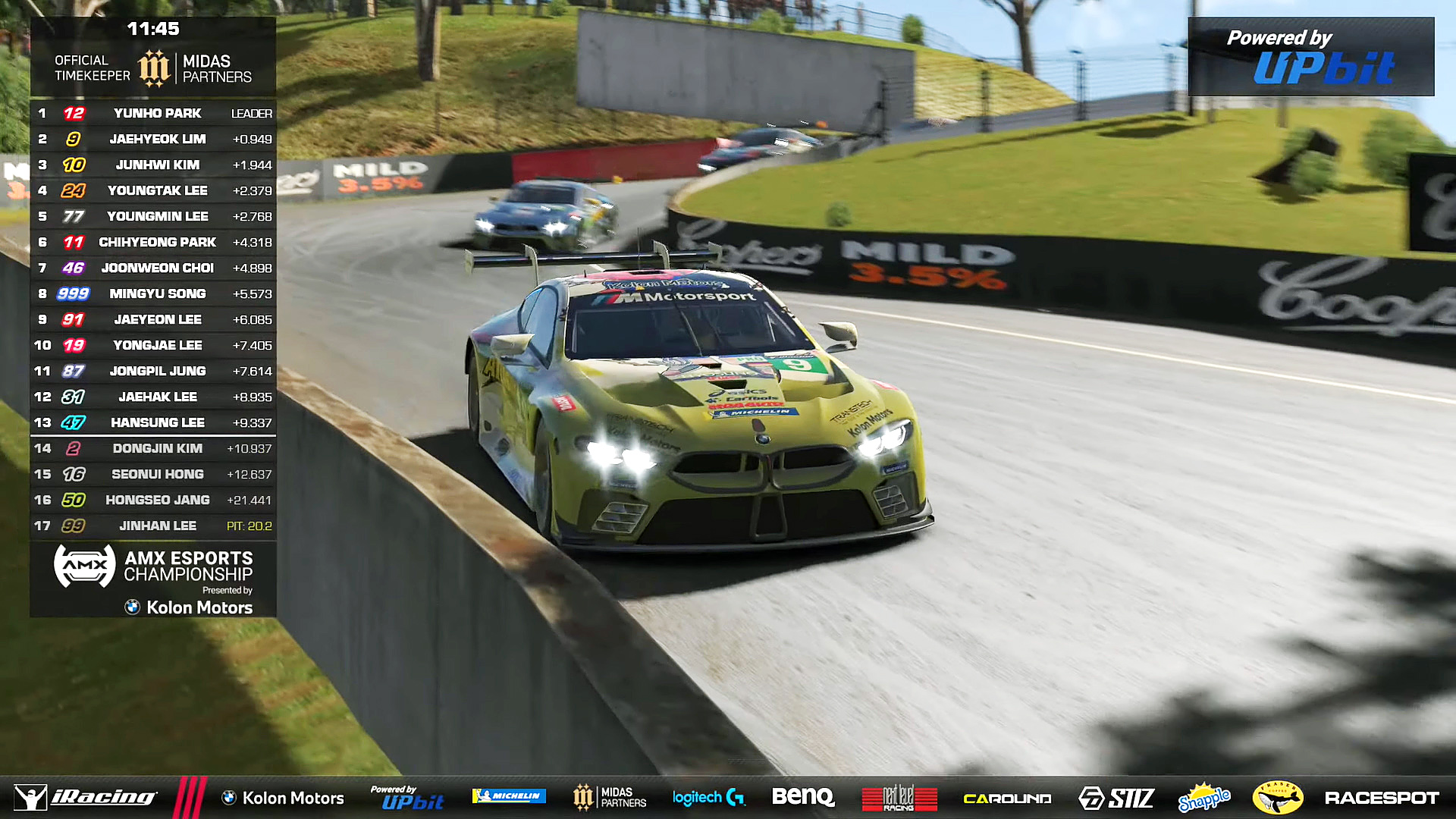 Round 10, in which 20 sim racers participated, was held at the Mount Panorama Circuit using the BMW M8 GTE. Although the track is narrow which makes it difficult for two cars to race together side by side, based on the outstanding skills of the racers, famous scenes equivalent to the highlights seen in real motorsports were constantly reflected.
During the sprint race, which began in the order of Yunho Park (DCT ERacing), JaeHyeok Lim (AtlasBX E-Sports Team), and JunHwi Kim (AtlasBX E-Racing Team), the positions seemed to stick by grid order. However, due to a collission, the safety car was put in and the race resumed with only one lap left. The fiercest moment of the whole race took place in just one lap and ultimately finished in the order withYunho Park, JaeHyeok Lim sticking in first and second with YoungMin Lee (E-URO) comining in third.
The main race began in the order of YongJae Lee (Quadro E-Rain Racing Team), MinGyu Song (Ulsan DR Motorsport), and ChiHyeong Park (DCT Racing). The race, which began without major accidents, showed a pattern of intensifying competition among players as the position fluctuations continued. However, MinGyu Song, who was competing for second place, was pushed out of the rankings as he spun out during an intense battle with Yunho Park. Yunho succeeded in holding on to the lead, followed by JaeHyeok Lim and ChiHyeong Park.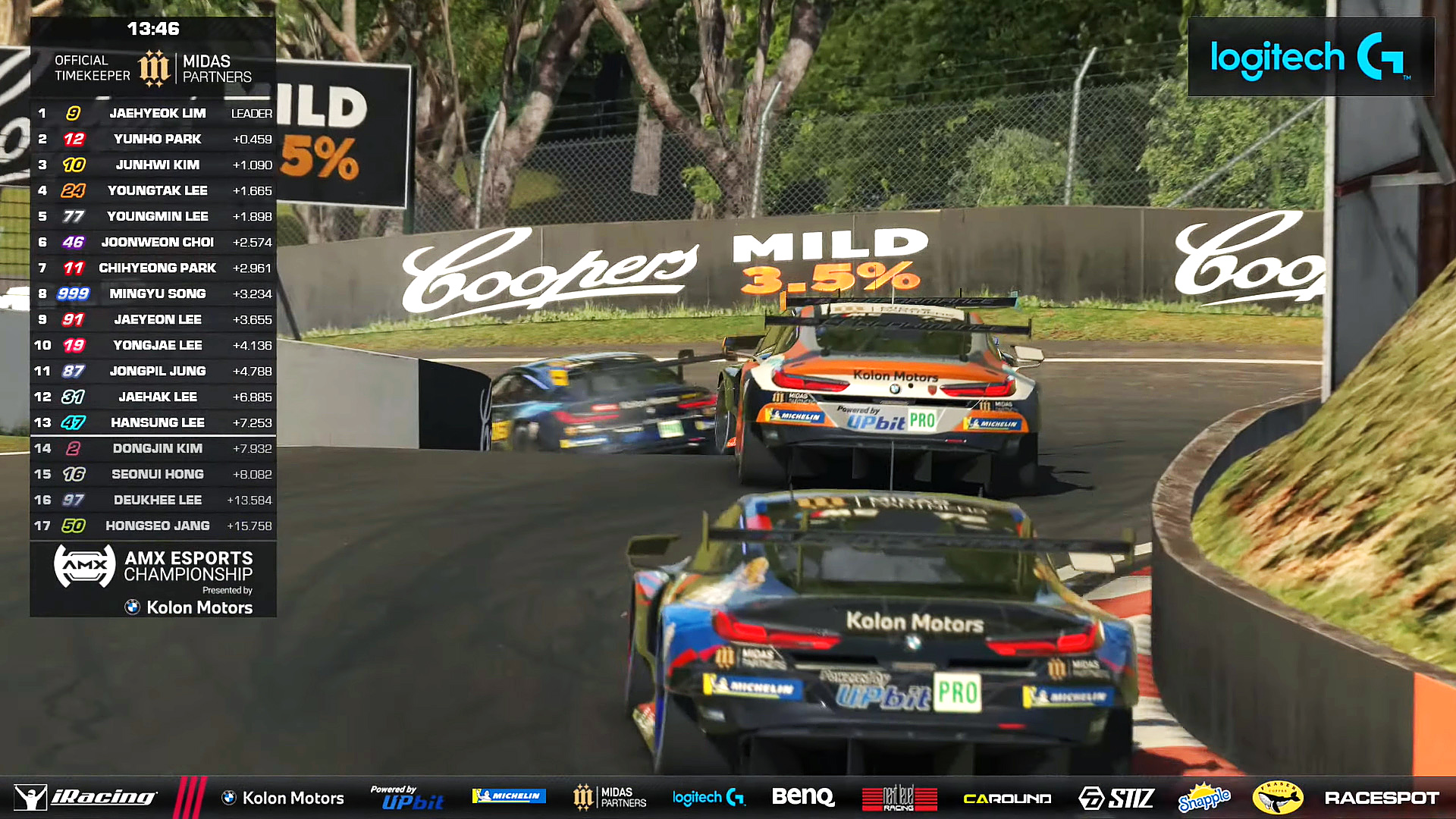 John Lee, CEO of Automanix, said, "In the process of planning the initial competition, we pledged to provide the same thrill as real motorsports for the audience. Thanks to outstanding race management of the players shown in both the sprint & main races this round, we were able to realize our commitment. I hope the talent can shine during the remaining rounds as well.
In particular, the online audience's interest in the YouTube Live Comment Promotion held in the 10th round was very popular. A sim racing introductory package (worth 800,000 KRW) consisting of AMX's official racing gear, the Logitech G923 and Next Level F-GT Light was the giveaway prize.
The AMX eSports Championship presented by Kolon Motors, is sponsored by Upbit, Michelin Korea, Logitech G, BenQ, Next Level Racing, Carround, Stiz, Snapple, and Fraser Coffee, as well as title sponsors Kolon Motors (Korea's largest BMW dealer).
Round 10 Highlights:
- Championship : https://www.youtube.com/watch?v=X9XNFoVW4x0
- Junior Cup : https://www.youtube.com/watch?v=jI7Mz5YHr2M
Watch Round 10 Again:
- Korean (AMX ESPORTS)
- English (RaceSpotTV)