Biker YouTuber Ryu Seok wins the 11th round in a cataclysmic manner - Held on August 12th, 2021
"RyuSeok wins the main race in the midst of endless accidents and going off course... with GaRod as the runner-up."
"Response to the live broadcast promotion with the Apple Watch prize was explosive."
Biker YouTuber RyuSeok won the main race in the 11th round (Influencer Round) of the AMX eSports Championship presented by Kolon Motors , co-hosted by Automanix (CEO John Lee) and the afreeca Colosseum (CEO Chae Jung-won). Garod (Shin Woo-seop), who is active as a sim racing expert and commentator, was also in plenty of action throughout the game.
Round 11, in which 18 influencer drivers participated, was held at the Brands Hatch Indy Circuit using the BMW M4 GT3. Mighty Mouth (DR Mighty) and JiEun Park (E-URO) were absent due to scheduling issues and injuries. Compared to previous influencer rounds, there were predictions that attacking would be difficult in part of the course consisting of steep slopes and sharp hair pins.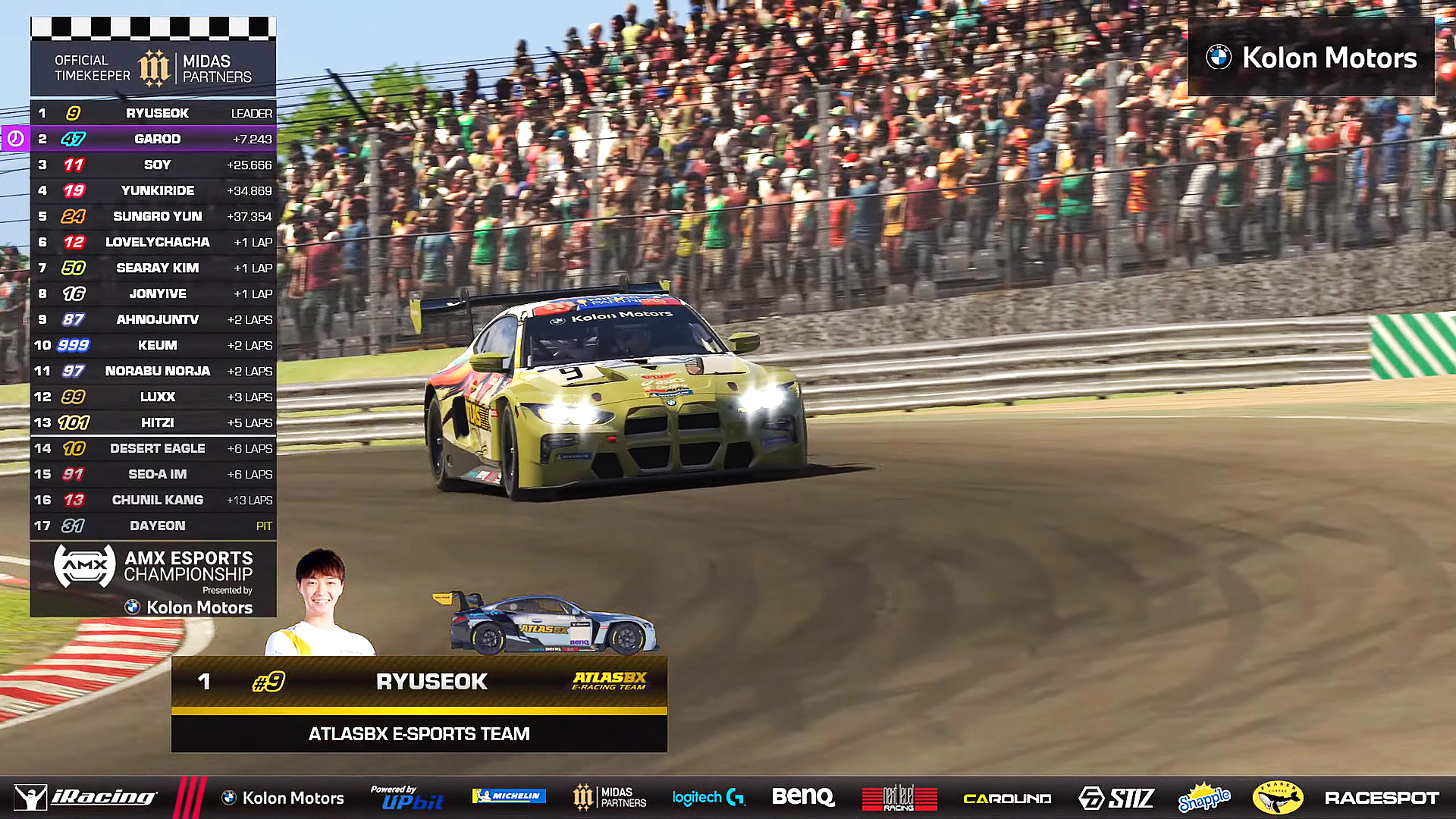 In the sprint race, which began in the order of Garod (PSR), KEUM (Ulsan DR Motorsports), and RyuSeok (Atlas BX E-Sports Team), accidents were so frequent that all drivers were involved in accidents that made the positions changed rapidly. Garod, who held the pole position, won quite leisurely by widening the distance from his trailing vehicle, and Keum, who once fell to 13th place, steadily increased his concentration and finished second. Desert Eagle finished the game in third place, making an error unfortunately in the last corner of the last lap.
In the main race, which began in the order of Lovely ChaCha (DCT ERacing), Sungro Yoon (Team BTC), and Ryang-ho Kwon (2RUN), Ryangho Kwon collided with P1 and P2 in the first corner, causing a total of six cars to be caught up, and RyuSeok, who started fifth, took the lead. Throughout the game, fierce battles repeated in which trailing vehicles and backmarkers (vehicle more than one lap behind the lead) were mixed in together, and the race was finally finished in the order of RyuSeok, Garod, and Soy. An online viewer stated, "It feels like I watched a 24-hour endurance race in a matter of 30 minutes."
Round 11 Highlights:
- Championship: https://www.youtube.com/watch?v=s25OdRtc3qg
- Junior Cup: https://www.youtube.com/watch?v=9GJwUNudEpI
Watch Round 11 Again:
- Korean (AMX ESPORTS)

- English (RaceSpotTV)